Vicki Couzens
Peert Koorook — Guardian of Womens Country (2023)
Keerray Wooroong / Gunditjmara  
VIDEO DURATION | 8:51 minutes
From The Curator
This Story is of Country; of Ancestral Beings, of Guardians, of Kin and of multidimensional realities of co-existence. The Ancient story of Peert Koorook and her companion the Karroy (Southern Brown Banidcoot) not only evokes the spirits of country, it is a lesson. Like many First Peoples stories they are not folklore, but have layers of meaning and knowledge within them that often guide us to protect Country and family and to teach respect.
The story of Peert Koorook has many layers, some we can know, some that are for the community only. But what it does share is respect of the Bandicoot, not hunt or harm this animal. This manifestation by Vicki shares this knowledge and enlarges the Bandicoot to a super scale, giving it an enormous presence, which is in opposition to its lived reality on country. Through this super presence of Karroy with the projection of the Peert Koorok story on its body the relational link to animal kin, law and living with country is highlighted.
Artist Statement
In Yarroweeyt Country, there are female 'devil' spirits who guard our Womens Country Peert Koorrook is the name of one, who takes the form of a woman. She is as tall as a gum tree and her companion is the dark coloured bandicoot.If the bandicoot is killed and eaten by the people, they will have bad luck and Peert Koorrook will haunt them every night.
The work Peert Koorook - Guardian of Women's Country comprises a sculptural representation of a Southern Brown Bandicoot (Karroy), accompanied by a soundscape and projection that tell the story of Peert Koorook and her sisters who are the Ancestral Spirit Guardians of Womens Country in Keerray Wooroong and Gadubanud lands around Wareroongwongwong-Moonlight Head and Bangoorak-Cape Otway.
Artwork Description
The sculptural form of the Karrooy (bandicoot), who is Peert Koorook's companion is 4 meters long and close to two meters high. It has a projection in black and white appearing across its form. The projection features three Aboriginal women walking through the bush with white ochre paint on their feet, legs, arms and face, the ochre on their feet is reminiscent of the shape of a bandicoot. They are wearing feather headpieces. The projection with sound scape evokes a sense of when we travel the spirit world in our dreaming/nightmares. The soundscape comprises sounds of Country, sound effects, vocalisations, and song in Gunditjmara language.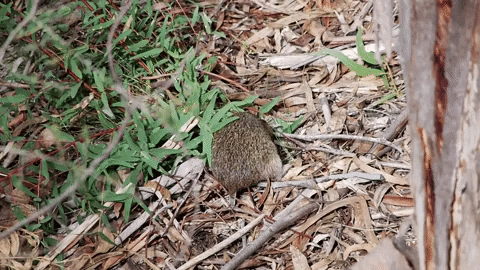 'Southern Brown Bandicoot' by Ellen Rykers. Licensed under CC BY 4.0.
ARTWORK CREDITS
Performers | Yaraan Bundle; Jarrah Bundle; Marlee Bundle  
Videographer, Lighting and Sound | Peter Worland
Videographer and Executive Director | Daniel Schulthie
Sound and Executive Director | Robert Bundle
Executive Director | Vicki Couzens
Bandicoot fabrication | Ellen Sayers