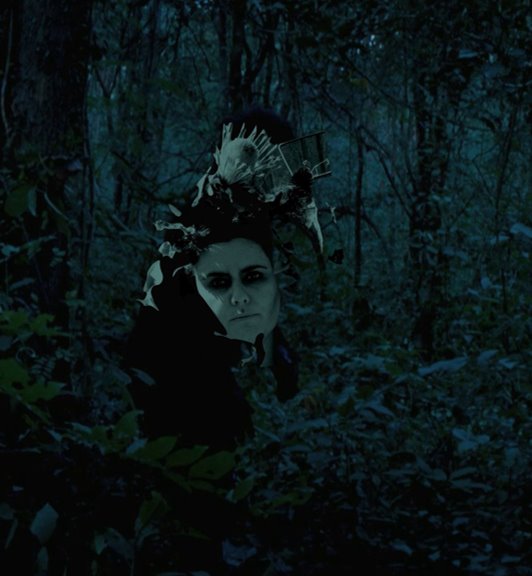 From the curator
Mok Mok Murrup Yakuwa is an immersive film installation referencing the Wemba Wemba story of Mok Mok – a devil woman and sovereign goddess, here in the film played by the artist's mother, Aunty Margie Tang. Mok Mok appears and disappears, spectre-like, on country, the distinction between an absent presence of Mok Mok and the feeling of both malevolence and protection is blurred. You feel her when she is unseen and when present she evokes a feeling of unease but also holds immense energy as woman in her Sovereign power. We are witness to her walking through country and connecting to waterways and travelling different planes, through the air and through dreams.
Bush-dyed fabrics are arranged across the 3 sides of the triangular room, representing life, death and dreaming. This work is more than a story of the Ancestral entity of Mok Mok but it is symbolic of the power of country to heal, of matriarchal strength and resistance. Mok Mok is a woman of great connection, there is a relational paradigm she exists withing which crosses the slip stream of time, of the land and water, the air and trees of country, she is all around us, there to warn and there to protect. This work is symbolic of the resistance by Aboriginal women to colonial and patriarchal violence which has continued since the invasion of country, but it does not center this history at its core, it centers Mok Mok and all her power, which in its essence is the land, and its people.
Artist statement
"Mok Mok Murrup Yakuwa is a version of reality that lives across life, dreaming and death. It represents a living experience of moving through time, place and ways of being on and with Country and holds my unconditional love of Country, my family and my people.
Mok Mok is an entity I have felt beside me all my life, from a little girl up home on our Wemba Wemba Country (to which I belong through my mother, grandmother, great grandmother and great-great grandmother) to living on Yorta Yorta Country growing up at Kyabram and Echuca to living and being born and living on Wurundjeri and Boon Wurrung Country.
Mok Mok entranced me from childhood when I would hear warnings of "look out, red eye mookie at the window," to hearing my brother and cousins being warned of the old hag woman who would call or sing them away from home to live with her.
When I was about ten years old in 1984, I walked to my grandmother Rosie's heaving bookshelf and reached for esteemed Elder and activist Aunty Marge 'Lilardia' Tucker's life story, 'If Everyone Cared,' (1977) in which Aunty Marge shares a retelling of a Mok Mok story told to her, and I was obsessed; scared and fascinated at the same time. I spoke with Nan and traced my finger over Aunty Marge's signature snuggled inside, which read, 'To Rosie, with love, Lilardia.'
Nan and I spoke about Mok Mok and I imagined her living out in the bush, alone and fearless. The traumas I was experiencing, carrying transgenerational trauma and suffering sexual abuse, racist bullying and violence sat heavy with me, but with Mok Mok I imagined being free, wild and safe in the bush at Moonahcullah, not afraid of anyone or anything.
Going through life in this colony means walking old and newly forming trauma tracks of genocide and grief. But, embodied experiences of being on and with Country and walking and being with Ancestral or entity beings like Mok Mok, empower our strength and resistance, and remind us of how old our sovereignty is.
Mok Mok feels like she is always with me and there are times I have needed to embody her for my own survival, and within this film, my mother, Elder and Matriarch, Margie Tang, generously agreed to be Mok Mok for the film. In Mum's embodiment, I see Mum's survival always moving into healing, her matriarchy and sovereignty.
Mok Mok, and all the little Hairy Beccas, Goon Dogs and other entities that I grew up being told stories about up home at Moonah are always with me, in the city, on bush tracks on visits home, watching over me and my family during these times and-overwhelming feelings of colonial chaos.
In this film, Mok Mok appears at a window like the stories told me as a child, and to recall the night my Nan Rosie scared my mother and Aunty when they were little girls, by painting her long Blak bony arms with black boot polish (inverting a favourite material of racists) and taunting them by moaning and pushing her arms through the window by moonlight. Mum said they were screaming until their throats hurt. Nan delighted in scaring people, fear was used as Blak humour to survive the horrors of white people's violence.
Mok Mok Murrup Yakuwa shows Mok Mok as a guardian presence, a protector and constant witness to the violence of patriarchy and colonisation, state and settler, and sexual violence against Aboriginal women and children. She does this across time and across Country. She witnesses deaths in custody, the increasing incarceration of Aboriginal women and the ongoing removal of Aboriginal kids from their families.
The film is an extension of other iterations of Mok Mok, and was drawn from a vivid dream I
had in February 2022. One night while in a lot of pain, I took a strong pain killer and fell into a very deep sleep-something that alludes me most nights with the traffic on Footscray's Barkly Street and nearby Ballarat Road, and the Sunbury train line all bustling again post covid lockdowns. My city sleep is always shallow compared to the deep sleep I get up the bush in the blackest of nights where the stars are easy to see up home.
In this dream, I was walking on the edge of Naarm, walking into very thick bushland, and as the city lights faded, and the night got darker, the night sky got inky, and deep and the beautiful blackness was sparkling with the milky way and stars.
In that darkness, I saw little entities or mookies watching me from under the gums, ones I had been warned about all my childhood; one was Mok Mok, another looked like the Goon Dog, a black shaggy dog with a human male face that prowls the edge of Moonahcullah Mission, keeping us kids from wondering too far from camp, a Hairy Becca, a little person, who lives hidden in the bush and Kolety (Edwards River) moving in and around us and watching for trouble, making sure we are all ok and not breaking any lores. Becca can move across the river bank, under the water, and back into the bush without being seen. I felt a deep fear and a need to keep moving, and to not look, but I couldn't help myself.
All of a sudden, as I wanted to turn and run, I felt like I was moving in slow motion, and felt a presence and force suck me directly up into the sky, turning and tilting my body parallel to the ground with me hovering over myself looking down at my body running along that bush track, and I woke with my heart pounding in my ears.
My spirit and body had disassociated and my spirit moved through the sky in that moment. This is reminiscent of the disassociation I often experienced as a child surviving traumas. Sometimes called out of body or near-death experiences-the veil between these planes is thin. But, in this moment, as an adult in healing and breaking trauma cycles, I see the entities are there to guide and protect me and were there all along, like Mok Mok always with me in Mok Mok Murrup Yakuwa."
Artwork Description
As you enter the room there is a large steel structure frame which is in the shape of a Triangle. The frame is covered in bush-dyed silk, which smells of gum and soil of the land and is soft grey in colour. You enter the bush dyed room from the tip of the triangle and are greeted by a film that is about 4 meters wide and 3 meters high. The film depicts the story of Mok Mok the devil woman. There are scenes of a river and bushland and flashes of Mok Mok appear. You do not see her face but you see her body and long flowing black hair. At times she is standing in a river, other scenes you see her reach through an old cottage window into the dark. The last scene ends with mok mok walking away from the camera into the bush.
Film Transcript
Mok Mok says "Shhhhh…."
Mok Mok says "Look out,"
Mok Mok says "Even if you run I will track you down"
Mok Mok says "I was always here and I will always be here"
Mok Mok is calling to us.
Mok Mok says how many "Pan-gin-gook…are there in there?
(how many children do you have?)
Mok Mok says "Wemba tuki!"
(don't move, keep still)
Mok Mok says "Punggandity Titya, puriny"
(spirit, to shift, to change places, night, darkness)
"Shhhhh…"
"Look out,"
"Even if you run I will track you down"
"I was always here and I will always be here"
"Pan-gin-gook…?"
(how many children do you have?)
"Yumurraki Mok Mok Murrup Yakuwa."
(dreamtime old had ghost dream)
"Wemba tuki!"
(don't move, keep still)
"Punggandity Titya, puriny"
(spirit, to shift, to change places, night, darkness)
HEAR FROM THE COLLABORATORS
Through a series of written responses, Shadow Spirit collaborators take us beyond the exhibition's deep immersion, into the ideas and work that went into the work. In this short essay, film director Paola Morabito takes us behind the scenes.
ARTWORK CREDITS
Mok Mok Murrup Yakuwa (2023)
Paola Balla (Wemba Wemba/ Gunditjmara)
Cultural and Story Guidance | Aunty Margie Tang, Aunty Donna Mitchell
Performers | Auntie Margie Tang, Maggie Guinan
Film Director | Paola Morabito
Film Producer | Jackie Adler
Production Company | Finch
Director of Photography | Adam Howden
Editor | Graeme Pereira
Edit House | Arc Edit
Film Producer | Jackie Adler
Sound Designer and Composer | Erin McKimm and Luke Ford
Post-Production and Flame artists | Atticus
Colourist | Greta Van Oyen
Hair and Makeup | Paola Balla
Costume | Paola Balla
Hand-dyed Silk Organza | Paola Balla
Metal Fabrication | Substraight
Mok Mok Murrup Yakuwa was filmed on Boon Wurrung (Bunnerong) Country with respect, care and gratitude. Thank you to N'arweet Carolyn Briggs AM, Yaluk-ut Weelam and Boon Wurrung Elder, for her support. Thanks to Parks Victoria and Werribee Mansion for your support.