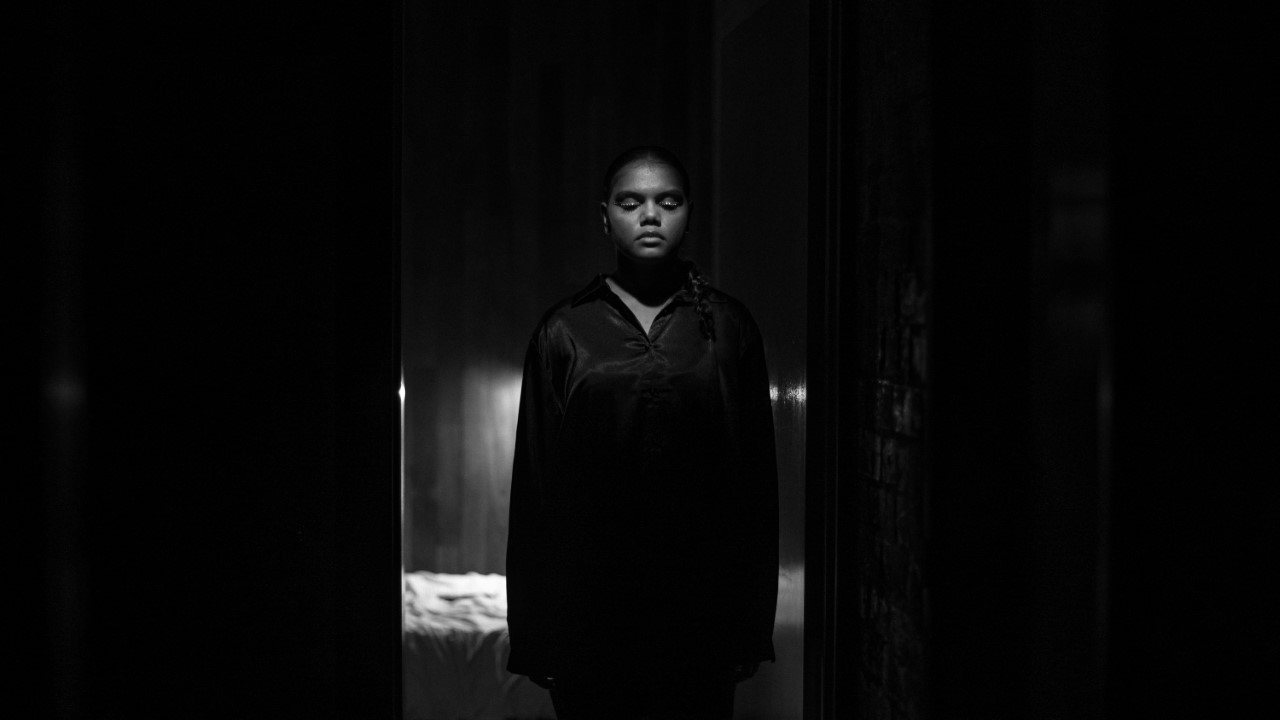 From the curator
The Umbra is a suspenseful cinematic, 'film noir' rendering of a story that exists beyond the physical world and follows two young girls navigating an event of astral travel.  The film explores themes of spirituality, astral plains, intuition and the psyche in relation to Indigenous women and women universally. There is symbolic moments throughout the film including the eye makeup referencing dream state and an overarching narrative of the Indigenous concept of deep listening. The work builds suspense through the unknown and the power of quietness, giving a sense of an early morning state connecting the frequency of the physical world and a transcendent intangible space. Hayley has collaborated with students from the Melbourne Indigenous Transition School as actors in her film.
Artist Statement
Illuminating the darkest and quietest part of the night - the witching hour - when the veil to the physical and spiritual realms are at its thinnest, The Umbra unites the living with the ethereal through shadowing the navigation of an occurrence of astral travel in a spiritual reflection of the physical world - an 'in-between' realm existing alongside yet separate from the material world.
Artwork description
The room is dark and surrounded by thick black curtains, there are bench seats against the wall as you enter through the door. There is a large projection of a film on the wall in black and white which features two female characters that are in a sequence of astral travel, and meeting in a house. There is suspense and moments of quietness.
Artwork credits
The Umbra (2023)
Hayley Millar Baker (Gunditjmara/Djabwurrung)
Writer and Creative Director | Hayley Millar Baker
Performers | Tatiana Bush & Luriese Ulamari
Director | Keryn Nossal
Director of Photography | Noel Jones
Camera Assistant | Anh Pham
Production Assistant | Rebecca Gauci
Gaffer | Andrew Lock
Editor | Anh Pham and Dylan Timtschenko
Sound | Dylan Timtschenko
Colourist | Peter Hatzipavlis (Final Grade)
Hair and Makeup | Chantelle Baker and Lisa Baker
Location | Walsh Street, Robin Boyd Foundation
Artist Gallerist | Vivien Anderson Gallery