Dylan Mooney
Message In My Dreams (2023)
Yuwi, Torres Strait and South Sea Islander
VIDEO DURATION | 1:45 minutes
From the curator
Message in My Dreams reflects on Ancestral and Creation Spirit communication through dreams and the way dreams are interpreted from a First Peoples worldview and the important messages they carry. In an extension of his practice Dylan has animated his digital work to create a meditative dreamscape that features totem animals and a manifested calm realm where they intersect with each other, reflecting by the fire the animal guides appear and look to the Ancestor rainbow serpent which is in three-dimensional form in the space. The dialogue is unspoken, and there is a connection between all three that is symbolic of the way in which we receive messages from Ancestors.
Artist Statement
Message In My Dreams depicts dreams and creation. The nature of dreams and dreaming have different meanings through Indigenous culture. Analysing the content of dreams and their symbolic meaning for individuals and their communities can help to understand greater cultural contexts. What do these messages mean in our conscious minds and how do we interpret these stories into our lived experiences -our past, our present and future. Through digital illustration and animation, this work will delve into some of these dreams: are they showing are we in the right place, are our Ancestors visiting us and communicating knowledge, it is a way of understanding and connecting future with the past.
The effects of colonisation have impacted our people, but our knowledge and traditions are still passed on not only through our family but our dreams as well by connections of our Ancestors. Dreaming for most is a form of resistance, survival and we are thriving to keep our stories, cultural identity, and languages alive.
Our dreams and our connection to our old people and spirits are an important factor in our cultural knowledge and understanding these visions act as a gate from our physical self to our spiritual world.
Artwork Description
As you enter the room a large serpent in blue and rainbow colours greets you from above, its head is directly in front of you as you enter and is suspended above. It is around 4 metres long. On the three walls of the room in front and to the sides there is a colourful animation. The animation features a dreamscape of floating islands in the sky with a person sitting on the ground in front of a fire. A Kangaroo, cassowary and eagle come to the person on the ground, the eagle flies across the sky and the kangaroo and cassowary come out of the bush and back in. There are sounds of a crackling fire.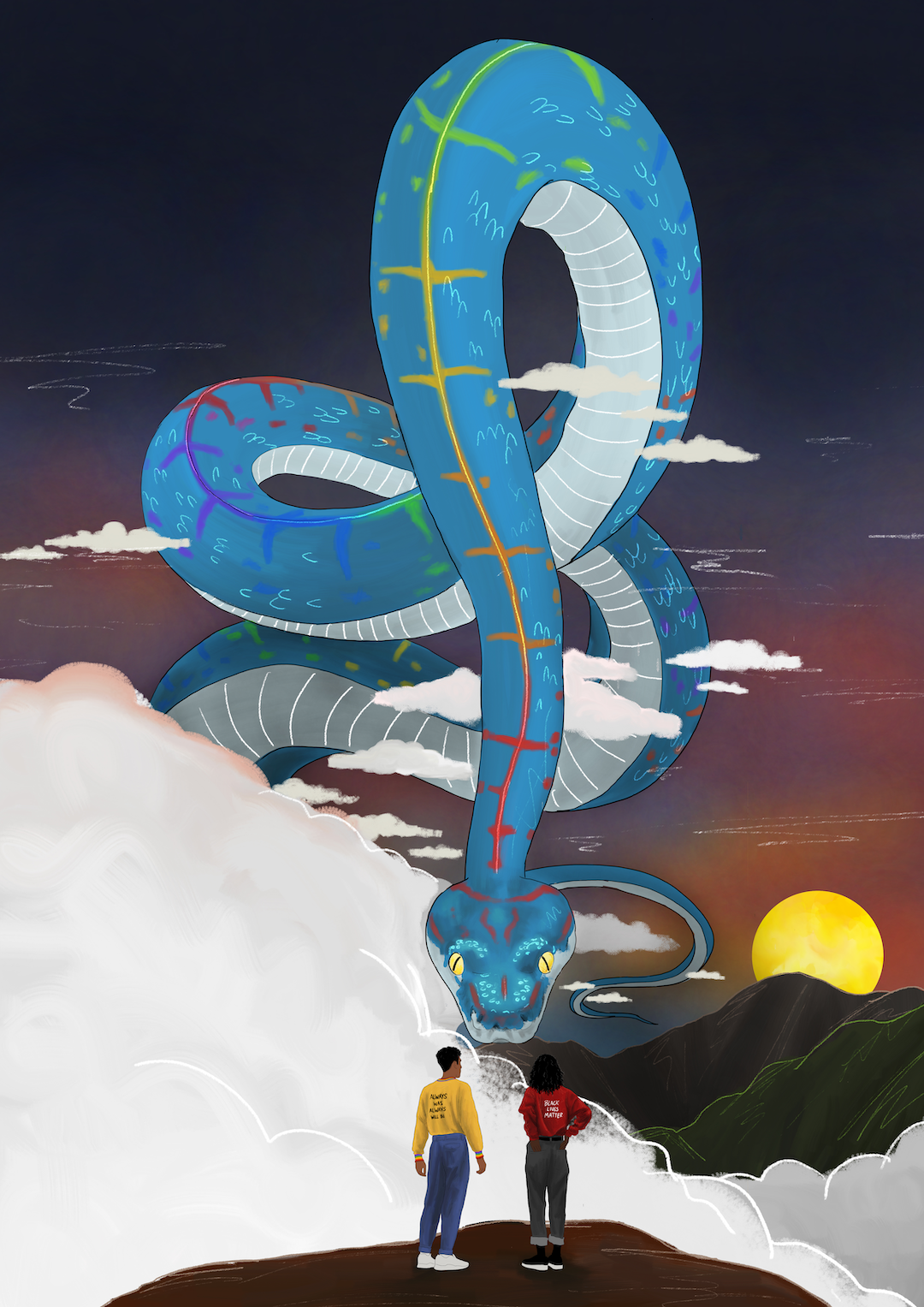 Artwork credits
Message In My Dreams (2023)
Dylan Mooney (Yuwi / Meriam/ South Sea Islander)
Animation | Maeve Baker  Composer | James Howard (Jaadwa)
Inflatable Fabrication | Erth Visual & Physical - Alexandra Allanson, Bella Bowman, Celia Curtis, Steve Howarth, Kat Lynch, Cherrie Neale, Jake Stevens, Ryan Shelmerdine, Kim Tillyer-Strudwick
Lighting design | Studio John Fish