Aunty Zeta Thomson
Spirits Of The Land (2023)
Wurundjeri/ Yorta Yorta/Wamba Wamba/Wiradjuri
VIDEO DURATION | 3:43 minutes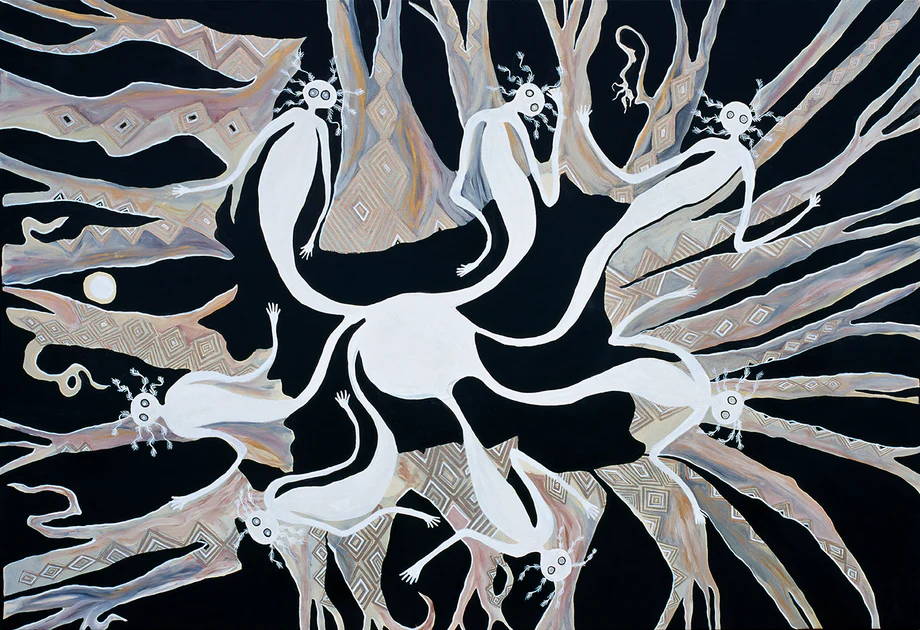 From the curator
Spirits Of The Land is a work that shares the belief and stories of spirits that relate country both of Aunty Zeta's lands and broader Aboriginal cultural stories that are connected. In the room we are surrounded by large images from previous paintings of from Aunty Zeta that share the images of Ancestors spirits of country called Mookies, creatures called Hairy Beccas that teach children discipline and keep them safe, and phenomena called min min lights which are malevolent illuminations to avoid. The Spirits Of The Land animation shows an abstract storyline of country, based both in the past and present it connects the importance of respecting country and river ways and spirits of country, honouring the old people that came before.
Artist Statement
"I am a descendant of the Yarra Yarra Clan of the Wurundjeri people through my Ancestor's Billibellary, and his daughter Maria who was the mother of my grandfather Alexander Briggs. I am also a descendant of Barkabillie a senior leader and head man of the Ulupna Clan of the Yorta Yorta people whose daughter Theresa Guka-Yarmuk Clements is my grandmother, and passed down cultural knowledge to me and my family. I am also a descendant of the Wamba Wamba and Wiradjuri people.
These are the stories and belief of my people. I think it is overdue for the stories left to us from our people that are from right across Victoria, are told and to promoted. I am grateful for the opportunity to be able to share my stories at this time in my life. It's a way of remembering and keeping the stories from my mum, Dad and family and the culture they taught us alive.
Mookies are a belief that speak to the spirits of the land and our Ancestors, we are spiritually connected to the land, waters and heavens, that's where all our stories are. Tales like the hairy bekka and min min lights are Ancient stories which protect community and the land, they are two different things. Mookie means spirit in Yorta Yorta. In our culture, the old people would sing and clap our sticks or boomerangs together as they walked through the bush to let them know that they were coming back to visit them again. The old people would meet and gather at sacred waterholes for cultural business.
The hairy Bekka is a tall creature with white hair and when they walked towards you could hear their bones cracking as they walked around looking for kids. They have a foul odour so you know when they were around. If children stray from where they should be they will be taken by the hairy bekka. This story is about discipline and respect, and to teach our children to listen. Min Min light would appear at night sometimes, the story is that if a Min Min light shines on you that it will take you away, that you will vanish and you will be gone. This work teaches us to respect Country and honour our Ancestors. It's important to strongly represent Victorian Aboriginal culture for people to know these ancient stories."
Artwork description
As you walk in the room there are 4 large Cavas that are between 2-3 meters in length and height. On them are prints of paintings by Aunty Zeta that feature Mookies (spirit beings long and in white), Hairy Bekka who is a tall lanky creature with lots of hair that flows from its body, Min Min lights that are glowing orbs of light and trees that feature markings on them of diamond shapes.
Across a corner across on the left hand side of the entry is a blank canvas that has a projection on it. This projection as animated a river scene that features the creatures and spirits from Aunty Zetas paintings along with a flowing river with Aboriginal people on canoes, daily life along the river bank, people clapping clapsticks, building fires for smoking ceremony, carrying boomerangs and with children. There are longneck turtles swimming, emus and kangaroos on the ground and cockatoos flying. There are gum trees swaying in the wind with native flowers blooming. The audio is Aunty Zeta playing clap sticks and signing a welcome song.
Works on canvas
Canvas left of animation | Mookies Around the Water Hole
Canvas right of eimation | Mookies in the Forest
Canvas right of entry | Min Min Lights
Yarns between Aunty Zeta and Kimberley, 2023
River systems are important to our people, Yorta Yorta country has many waterways including the Dhungala – Murray River, The Yakoa- Campaspe River and Kaiela- The Goulburn River and Wurundjeri country has the great Birrarung Mar that leads out to the bay. Ancestors would navigate the waters on canoes to travel to special country and to hunt for fish, sometimes lighting fires on the end with the mud from the river that keep a long low dim at night. People travelled for purpose, sometimes for marriage, burials and ceremony.
In the old days people travelled at different times of the season also, to allow the land to renew and where the food was plentiful, returning yearly to their different campgrounds and villages on country. Bark for the canoes would be taken from trees and other cultural belongings such as shields and coolamons, leaving marks but also cared for in this process so that the tree remained healthy. Scar trees still line the rivers and stand in the bush carrying the marks of our Ancestors, some can even be seen in the city.
As peopled walked through country they would sing out to Ancestors to let them know they were coming and what they were doing there, to respect the spirits that might be there and to seek protection. Singing to Ancestor spirits is important and still existing. It is a protocol to honour them and country which is evoked whether you are walking amongst the skyscrapers of the city or the quite gum forests of country.
Night-time was just as alive as the day. As the moon rises and shines through the forest, evening birds appeared to sing goodbye to the day, the Kookaburra and cockatoos land on trees to call out their evening songs and the curlew would roam between the old gums at dusk with bats sweeping across the skies. Kangaroos would jump softly on the earth, eating the green from the forest floor and Mopoke owl would wake to look for food and make its call known. Owls bring messages in our culture and are a wise creature that is the conduit between our world and the spirit world. As some of the birds and animals prepare for sleep and to retreat others make the night their playground. Night-time is also when sprits are more present, Ancestor spirits and spirits of country, they watch us from the hollows of trees and are all around us and fade in and out of periphery. These are the belief of our people, and there are also stories of creatures like the Hairy Becca that will catch children if they stray from camp or the Min Min lights which are a malevolent phenomenon that will take you away if they shine on you. These are knowledges to guide us on country and speak to protocol on country.
This scene that Aunty Zeta paints with her own memories of country and her cultural knowledge was shared to her from her family, she continues this through her artwork and storytelling.
Artwork Credits
Spirits Of The Land (2023)
Aunty Zeta Thomson ( Wurundjeri/Yorta Yorta)
Audio Recording and Editing | James Howard
Animation | The Electric Canvas
Animation supported by Arts Centre Melbourne..